Teddy bears take over Thomas & Mack — PHOTOS
Las Vegas Review-Journal
December 21, 2017 – 12:01 am
UNLV Rebels mascot stands in the middle of the basketball court as stuffed animals are thrown during the 2nd Annual Teddy Bear Toss during half-time of the UNLV Rebels and Mississippi Valley State Delta Devils basketball game at the Thomas & Mack Center in Las Vegas, Wednesday, Dec. 20, 2017. Joel Angel Juarez Las Vegas Review-Journal @jajuarezphoto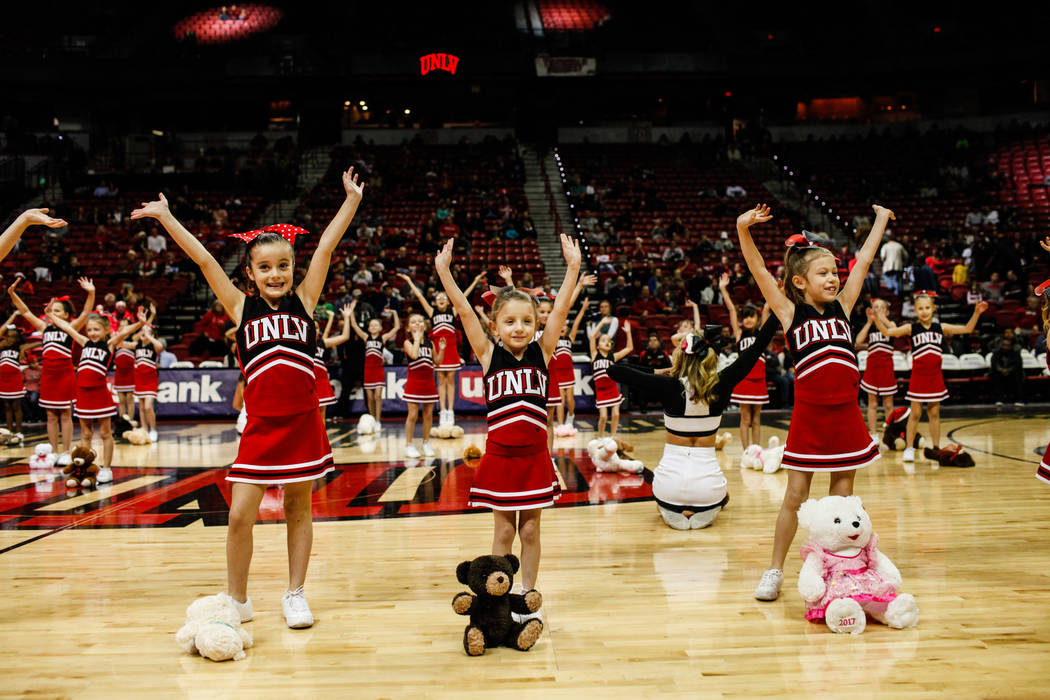 Rebel Starzz Cheer and Dance program cheerleaders dance introducing the 2nd Annual Teddy Bear Toss during half-time of the UNLV Rebels and Mississippi Valley State Delta Devils basketball game at the Thomas & Mack Center in Las Vegas, Wednesday, Dec. 20, 2017. Joel Angel Juarez Las Vegas Review-Journal @jajuarezphoto
Cheerleaders from the Rebel Starzz walk down an aisle during the first half of a basketball between the UNLV Rebels and the Mississippi Valley State Delta Devils before the Annual Teddy Bear Toss at the Thomas & Mack Center in Las Vegas, Wednesday, Dec. 20, 2017. Joel Angel Juarez Las Vegas Review-Journal @jajuarezphoto
Fans throw stuffed animals onto the court during the 2nd Annual Teddy Bear Toss during half-time of the UNLV Rebels and Mississippi Valley State Delta Devils basketball game at the Thomas & Mack Center in Las Vegas, Wednesday, Dec. 20, 2017. Joel Angel Juarez Las Vegas Review-Journal @jajuarezphoto
Craig Vaccro of the Clark County Fire Department, 37, left, collects stuffed animals during the 2nd Annual Teddy Bear Toss during half-time of the UNLV Rebels and Mississippi Valley State Delta Devils basketball game at the Thomas & Mack Center in Las Vegas, Wednesday, Dec. 20, 2017. Joel Angel Juarez Las Vegas Review-Journal @jajuarezphoto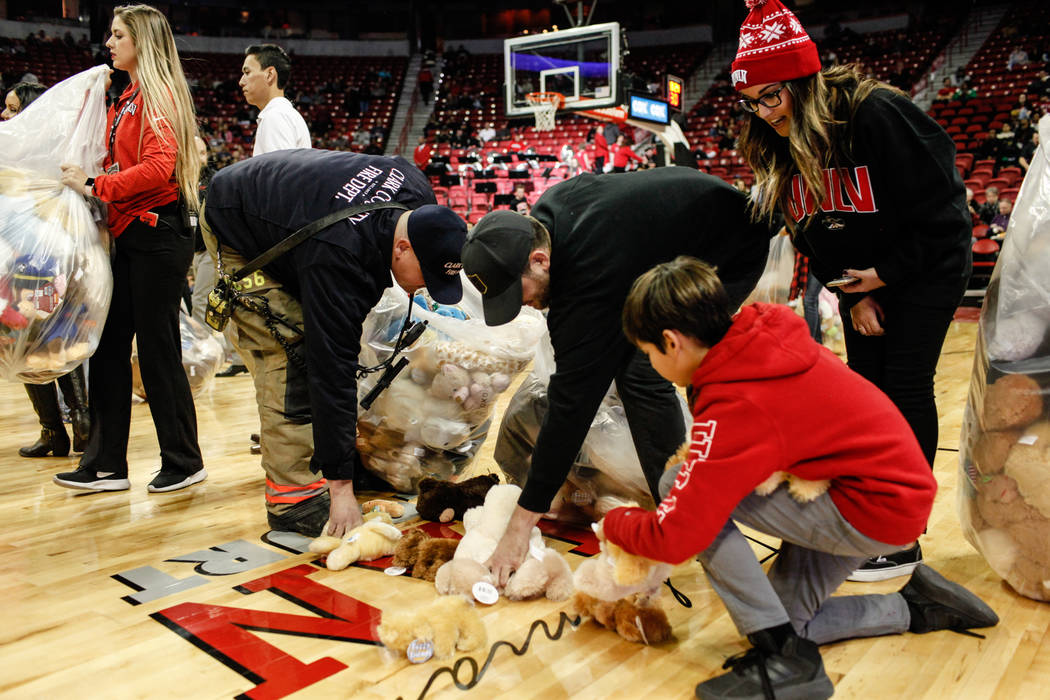 Craig Vaccro of the Clark County Fire Department, 37, left, collects stuffed animals during the 2nd Annual Teddy Bear Toss during half-time of the UNLV Rebels and Mississippi Valley State Delta Devils basketball game at the Thomas & Mack Center in Las Vegas, Wednesday, Dec. 20, 2017. Joel Angel Juarez Las Vegas Review-Journal @jajuarezphoto
People gather stuffed animals during the 2nd Annual Teddy Bear Toss during half-time of the UNLV Rebels and Mississippi Valley State Delta Devils basketball game at the Thomas & Mack Center in Las Vegas, Wednesday, Dec. 20, 2017. Joel Angel Juarez Las Vegas Review-Journal @jajuarezphoto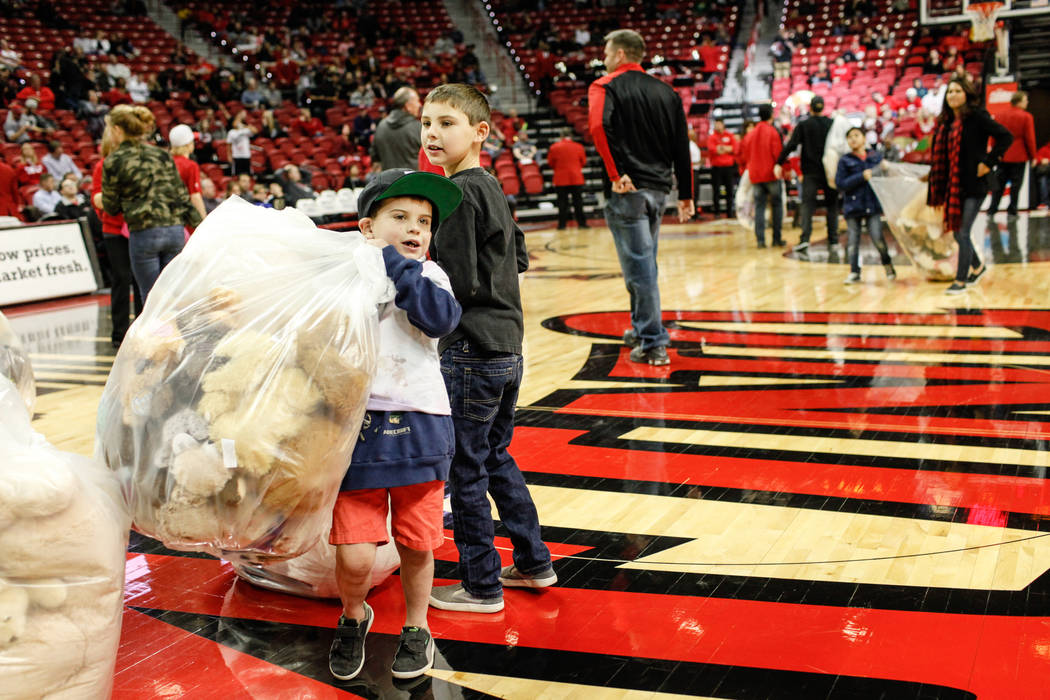 Austin Herrera of Henderson, 6, carries a bag full of stuffed animals during the 2nd Annual Teddy Bear Toss during half-time of the UNLV Rebels and Mississippi Valley State Delta Devils basketball game at the Thomas & Mack Center in Las Vegas, Wednesday, Dec. 20, 2017. Joel Angel Juarez Las Vegas Review-Journal @jajuarezphoto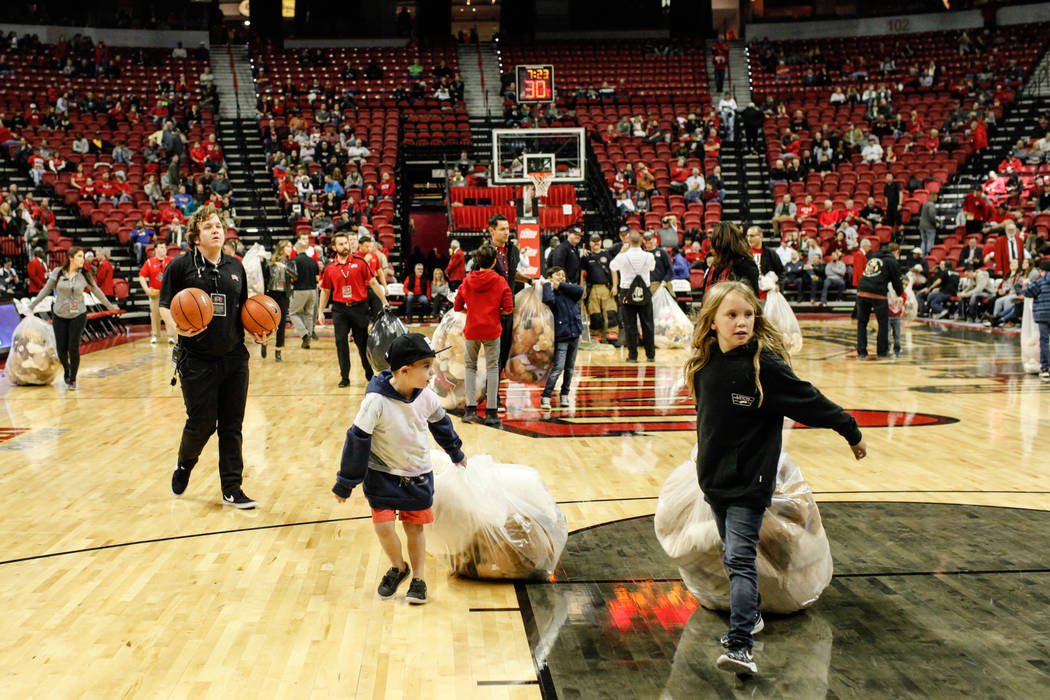 Children carry bags full of stuffed animals during the 2nd Annual Teddy Bear Toss during half-time of the UNLV Rebels and Mississippi Valley State Delta Devils basketball game at the Thomas & Mack Center in Las Vegas, Wednesday, Dec. 20, 2017. Joel Angel Juarez Las Vegas Review-Journal @jajuarezphoto
A child carries a bag full of stuffed animals during the 2nd Annual Teddy Bear Toss during half-time of the UNLV Rebels and Mississippi Valley State Delta Devils basketball game at the Thomas & Mack Center in Las Vegas, Wednesday, Dec. 20, 2017. Joel Angel Juarez Las Vegas Review-Journal @jajuarezphoto
From left to right: Clark County Fire Department's Craig Vaccro, 37, Tyler Stacy, 33, Kevin Bialas, 44, and Jeremy Richmer, 38, carry bags full of stuffed animals during the 2nd Annual Teddy Bear Toss during half-time of the UNLV Rebels and Mississippi Valley State Delta Devils basketball game at the Thomas & Mack Center in Las Vegas, Wednesday, Dec. 20, 2017. Joel Angel Juarez Las Vegas Review-Journal @jajuarezphoto
From left to right: Clark County Fire Department's Kevin Bialas, 44, Tyler Stacy, 33, Craig Vaccro, 37, and Jeremy Richmer, 38, carry bags full of stuffed animals during the 2nd Annual Teddy Bear Toss during half-time of the UNLV Rebels and Mississippi Valley State Delta Devils basketball game at the Thomas & Mack Center in Las Vegas, Wednesday, Dec. 20, 2017. Joel Angel Juarez Las Vegas Review-Journal @jajuarezphoto
From left to right: Clark County Fire Department's Tyler Stacy, 33, Kevin Bialas, 44, Craig Vaccro, 37, and Jeremy Richmer, 38, carry bags full of stuffed animals during the 2nd Annual Teddy Bear Toss during half-time of the UNLV Rebels and Mississippi Valley State Delta Devils basketball game at the Thomas & Mack Center in Las Vegas, Wednesday, Dec. 20, 2017. Joel Angel Juarez Las Vegas Review-Journal @jajuarezphoto
Bags full of stuffed animals are gathered in bags during the 2nd Annual Teddy Bear Toss during half-time of the UNLV Rebels and Mississippi Valley State Delta Devils basketball game at the Thomas & Mack Center in Las Vegas, Wednesday, Dec. 20, 2017. Joel Angel Juarez Las Vegas Review-Journal @jajuarezphoto
Clark County Fire Department's Craig Vaccro, 37, lies on bags full of stuffed animals during the 2nd Annual Teddy Bear Toss during half-time of the UNLV Rebels and Mississippi Valley State Delta Devils basketball game at the Thomas & Mack Center in Las Vegas, Wednesday, Dec. 20, 2017. Joel Angel Juarez Las Vegas Review-Journal @jajuarezphoto
From left to right: Clark County Fire Department's Tyler Stacy, 33, Jeremy Richmer, 38, and Craig Vaccro, 37, gather with UNLV Rebels cheerleaders as then lean on bags full of stuffed animals during the 2nd Annual Teddy Bear Toss during half-time of the UNLV Rebels and Mississippi Valley State Delta Devils basketball game at the Thomas & Mack Center in Las Vegas, Wednesday, Dec. 20, 2017. Joel Angel Juarez Las Vegas Review-Journal @jajuarezphoto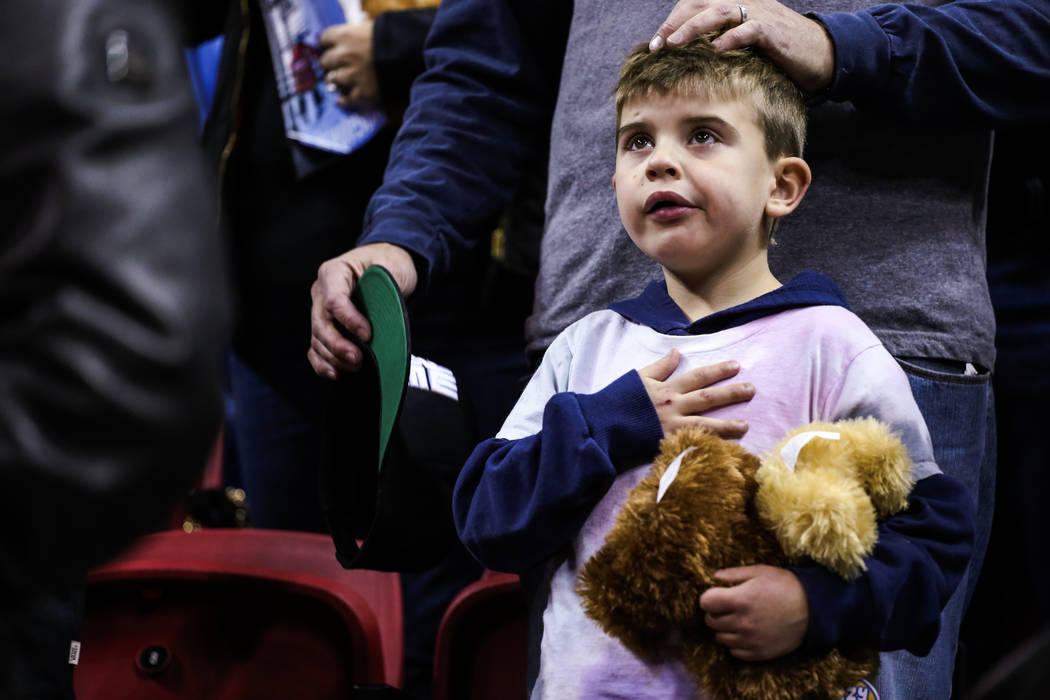 Austin Herrera of Henderson, 6, places his hand over his heart during the national anthem as he holds a stuffed animal for the 2nd Annual Teddy Bear Toss at the UNLV Rebels and Mississippi Valley State Delta Devils basketball game at the Thomas & Mack Center in Las Vegas, Wednesday, Dec. 20, 2017. Joel Angel Juarez Las Vegas Review-Journal @jajuarezphoto
UNLV fans were encouraged to bring a new stuffed toy to the Runnin' Rebels' game against Mississippi Valley State on Wednesday night at the Thomas & Mack Center to participate in the 2nd annual Teddy Bear Toss.
At halftime, teddy bears and other stuffed animals rained down on Tarkanian Court as fans from all sections made their best tosses.
The toys were collected and donated to the Firefighters of Southern Nevada Burn Foundation.
Home Front Page Footer Listing